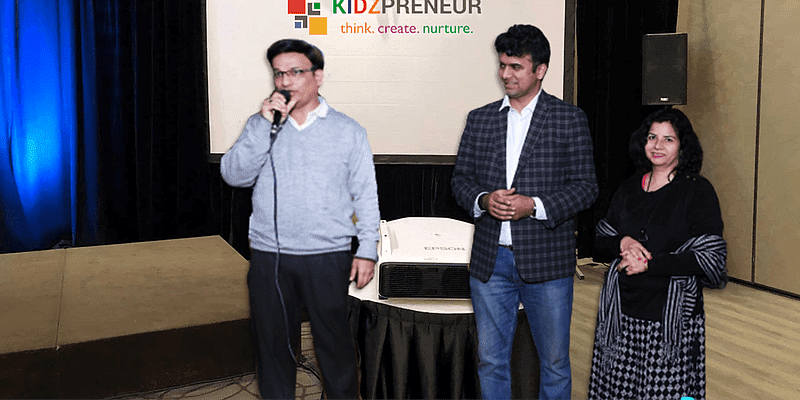 SHISHIR MIGLANI (SLP DELHI, 2017) AND AMIT MISHRA (SLP DELHI, 2014) TEAM UP FOR 'KIDZPRENEUR' (ENTREPRENEURIAL LEARNING PLATFORM FOR CHILDREN)
Oct. 13, 2021, 3:34 a.m.
Shishir Miglani — tech evangelist and CEO of Kurativz Technologies — was using his startup coaching skills to train underprivileged kids on problem-solving and life skills at a school. He realized that most of the children not only brought innovative ideas but also had clarity in explaining how they wanted to execute them. This was the genesis of Kidzpreneur — a platform for children to learn life skills that are important to excel in real life.
The platform helps kids build problem-solving, creativity, communication/storytelling, money management, and design thinking, among other skills, to absorb and initiate conversations relevant to their career goals.
While the startup was under Shishir's technology company Kurativz Technologies — a mobile app development company — close to a year, it was formally launched in 2021 in Delhi-NCR once it finalized its minimum viable product (MVP).
Shishir teamed up with Amit Mishra and Monika Miglani to engage with students and fill the gap between regular education with real-life skills they need to develop to be successful. Amit has been teaching and promoting entrepreneurship across India, especially in smaller towns, for a long time.
"We provided this unique roadmap, which no one is offering so far — a platform to test the students' learning in real life. We are doing this under a government-recognized accelerator platform, where post-coaching, the accelerator provides initial funding to students to explore the execution of their ideas," Shishir says.
Kidzpreneur also started a series of intervention programs, which helped the students further build on their ideas. "Today, we are proud to have three money-earning startups from this batch of students," says Shishir.
The founders decided to club their experiences of building products and supporting early-stage entrepreneurs to build an accelerator program headquartered in Noida, Uttar Pradesh. At present, Kidzpreneur is mentoring students from six countries.

Read more: https://yourstory.com/2021/06/delhi-bootstrapped-edtech-startup-kidzpreneur-helps-students-life-skills/amp
Website: https://kidzpreneur.com/